Why users may see a Windows 10 1903 update message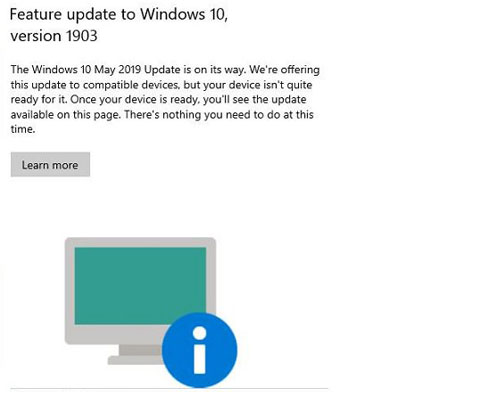 In the last couple of weeks, some Windows 10 users may have seen a message stating that "The Windows 10 May 2019 Update is on its way. We're offering this update to compatible devices, but your device isn't quite ready for it. Once your device is ready, you'll see the update available on this page. There's nothing you need to do at this time." Here's why that isn't a problem - for now.
Microsoft always aims to push out 2 feature updates to Windows 10 every year. The schedule is roughly one in the spring and one in autumn (give or take a few weeks for bug fixes etc.) and these updates introduce new features to Windows 10. Previous roll-outs have been dogged by failed updates, bugs and user frustration and this is why Microsoft is introducing machine learning to try and ensure a smooth upgrade for everyone.
What does the message mean?
Although it may be frustrating that you are missing out on new Windows features, the message is designed to provide users with a clear message that the 1903 update is not available for their PC. The update not being available will usually be down to hardware and known bugs or conflicts with the machine. It may not mean the whole PC is not ready but, more usually, there is a device (such as the graphics card or Wi-Fi card) that does not have a compatible driver available or has known bugs that may make it malfunction with the latest version of Windows 10.
Microsoft has said:
We are now beginning to build and train the machine learning (ML) based rollout process to update devices running the April 2018 Update, and earlier versions of Windows 10, to ensure we can continue to service these devices and provide the latest updates, security updates and improvements."
Is there anything you can do?
In short, no. It is fair to let Microsoft take the lead on whether your device is ready for feature updates or not, considering the bad press they have suffered with botched Windows 10 releases over the last few years. Think of this new approach as an additional safety net that prevents your PC from becoming problematic, or even totally inoperable after a major update release.
You can check for updates regularly to see whether a fix has been released and, hopefully, your PC will be running Windows 10 1903 in the next few months. Although it is possible to download a copy of Windows 10 1903 from the Media Creation Tool on their website and do a "fresh" install or run the Windows 10 May 2019 Update tool - that's probably not the best course of action right now.
Is not getting the update going to affect the security of your device?
Although we are all told to run updates as soon as we can to keep our devices secure, it is important to understand that this is a feature update. It is not a security or quality rollup. Even if your PC is not ready for Windows 10 1903 yet, you will still get security patches and bug fixes for your current version.
Windows 10 versions (Home & Pro) are supported through a published lifecycle. Version 1803 is supported until November 12th 2019 and 1809 up until May 12th 2020, so there is plenty of time for your device to become ready for the update, through driver updates for your on-board devices, or additional bug fixes in the software itself.
So your device will remain as secure as it can be, as long as your version of Windows 10 remains supported. If the 1903 update is still not available past these dates then you will need to take action.
If you enjoyed this article and would like to read more – why not sign up to our mailing list? You'll receive all our best advice, straight to your inbox.