Google rolls out File Stream as Drive replacement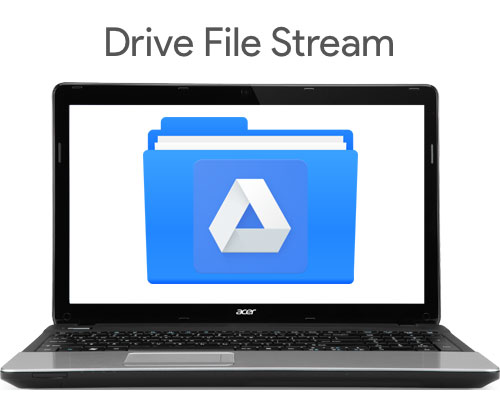 Google has announced that it's Drive File Sync and Share application is being replaced by File Stream. Google Drive support will finish December 11th and it will cease to work on March 12th 2018. Here's all you need to know about the replacement for Google Drive.
How is File Stream different?
We love Google Drive as, in our opinion, it has always been head and shoulders above other file sync and share products on the market in terms of reliability and simplicity of use. But we are really excited about File Stream for one key reason. File Stream no longer needs to store a copy of your data locally on your PC and yet it still provides lightening-fast access to all of your documents stored in Google Drive.
Basically, your Google Drive top-level folders gets 'mapped' like any other drive in your PC, with a corresponding drive letter as well. This is a much more elegant and integrated solution and it really does set the standard that other providers will need to catch up with once again.

Having worked with File Stream in the office for the last few weeks (with a decent internet connection) we can confirm that there is no lag when it comes to accessing your Google Drive data and it feels very much like accessing any other folder or file on your PC.
Introducing Team Drives
Another exciting development is the introduction of 'Team Drives'. One of the major gripes about using Google Drive in the past has been the matter of data 'ownership'. When users created documents in the past they would be the owner of that document and this meant sharing it with other users and headaches when that user left the company. Team Drives is the new and neater solution to this problem.
If you are using G-Suite Business, Enterprise or Education editions then you can start using Team Drives right now. Just enable them for the organisation in the Admin Console and away you go. Documents created in Team Drives do not need to be shared and do not have an 'owner'. This means a truly shared data experience for you and your staff.
You can set permissions for users (full, edit, comment and view only access) and add and remove team members as and when you need to without suffering issues with ownership further down the line. You can even migrate your current Google Drive documents to a Team Drive and 'break' the association between a document and a user.
In Google's usual style, the administration of this is really simple and there's plenty of documentation available online. For us, this really does eliminate the one bug bear with using G-Suite for document storage and access.
How to migrate from Google Drive
Upgrading from the Google Drive app to the File Steam app is easy to do.
Firstly, uninstall the Google Drive sync app from your machine. You will need admin access or an admin account to do this.
Next (and just as a precaution), rename your local Google Drive folder. This can be just appending '_old' to the end of the folder name.
Now you can visit the Google Drive page in your Google account and click on the 'settings' cog.
Select to download File Stream and install as you would any other application. The difference being with the File Stream app that it won't ask you to select a local folder for your data as you will now be accessing your folders and files straight from Google's servers. Once you are happy that your data is all there, you can safely delete the old Google Drive local folder that you renamed earlier.
Remember, you now access your Google Drive data through a mapped drive in File Explorer!
Just one more thing...
In true Columbo style, there's just one more thing. Now that Google Drive no longer stores a copy of your data on your PC, you can switch accounts and access multiple drives on one machine. This is also a massive leap in the right direction for Google's file storage solution.
We will be getting to grips with Google File Stream over the next few weeks and will post an article if we find anything we think you should be aware of in terms of daily use.
If you enjoyed this article and would like to read more – why not sign up to our mailing list? You'll receive all our best advice, straight to your inbox.